Writing Lab Report
Writing a lab report seems like something you should be familiar with even before you write your first laboratory reports, but in reality this process can be extremely complicated. A lab report is a key element of any laboratory course and has a huge effect on your overall grade. However, the complexity of this format of written assignments makes millions of students struggle with writing lab reports every day.
You will likely write your first laboratory report at school and by the time you graduate from high school, you may already feel comfortable with this type of work. But then come college lab reports, which are a completely different story and may make you feel frustrated yet again. If you're looking for someone who you can tell: "Write my lab report", you've come to the right place, as we specialize in doing lab reports for all the academic levels. Below you'll find a good lab report example and some useful tips on writing your own.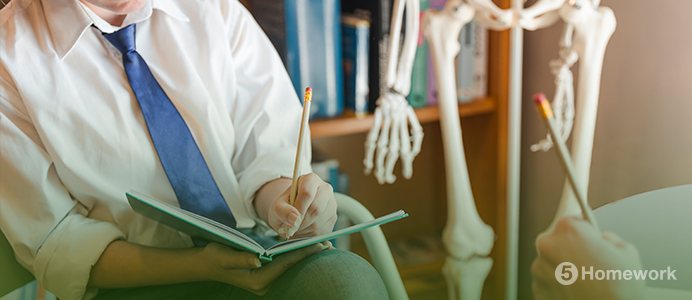 What Is Lab Report?
Lab report is a written assignment where the author describes and analyzes a laboratory experiment that deals with a particular scientific concept. The job of creating a lab report may seem easy, but in reality it includes much more than simply describing an experiment. In the preparation to the experiment, you are expected to review scientific literature, and as a result of your report, another person should be able to recreate your experiment and obtain similar results.
Parts of a Lab Report
Like any other type of scientific writing, a lab report has a clear structure that you should always follow. Normally there are 5 parts of a lab report, with each serving its particular purpose. Here is a quick guide to lab report parts.
Abstract
The abstract is viewed as the synopsis of the whole work. The abstract needs to be complete and independent, so that the reader can understand the general meaning of the lab report without using graphs and data from the rest of the work. When choosing the language and tone of writing your lab report abstract, imagine a reader that has some knowledge in this particular field but has never done a similar experiment. Use complete words rather than abbreviations.
Introduction
The introduction of the laboratory report exposes the reader to what has led to the experiment. Use this part to prepare the reader for the experiment itself, state the objective of the research, and specify why the experiment is important. You should also provide some background for doing the experiment. This part of the lab report should also include predictions for the outcome of the experiment.
Procedures
The procedures part of the lab report is often called "methods". This part has double importance for the success of your lab report. First, it helps you recreate the experiment in the future. Second, it gives the reader the necessary information to conclude their own experiment. Historically, this section of a lab report is written as a first-person narrative.
Results and Discussion
This part of the laboratory report is considered by many to be the most important one. After introducing the readers to your reasons for conducting the experiment and your methodology, you are now ready to present the result. Various graphs and tables will be helpful in this section. Moreover, you need to not only list the results you obtained, but also discuss any errors that were made in the experiment and how they affected the outcome of the experiment.
Conclusion
While the last part of a lab report may seem similar to the previous one, there is at least one big difference between the two. In the previous section you presented the results independently, and in the conclusion you need to connect the obtained results to the objectives of your experiment. Discuss whether your experiment was successful, and if not, what prevented you from obtaining the expected results.
How to Write a Lab Report?
Working on a lab report will require much more than simply conducting a successful experiment. In order for your experiment to be accessible to a wide audience, you also need to pay attention to your writing, particularly the language you use, the formatting of the paper, and the structure we've covered above. Naturally, all these aspects of successful lab report writing may be too much to handle, and that's exactly why we're here to help each customer get the most impressively written lab report of their academic life.
Lab Report Example
If you've written one or two lab reports in your life, you may be wondering: do you actually need a template to follow? We believe that every student can benefit from checking out a sample lab report on their topic. It will help you better understand the nature of a lab report and describing an experiment, as well as give you a clear idea on the format and structure. Take a look at some good writing pieces and guides to get inspiration for your own writing!
Can You Write My Lab Report for Me?
It's clear it's not easy to write a lab report, but a lot of students have no idea how difficult it actually is before they start working on their first draft. If you have no idea how to do a lab report to get a decent grade, or if you're running late on the deadline and feel like you won't be able to complete the work on time, don't succumb to the overwhelming feelings of stress before you reach out to us!
Our company has worked in the lab report writing business for years, and during that time we've had thousands of students coming to us and asking: "Write my lab report for me!". We are always happy to provide you with the help you need, whether it's writing a lab report from scratch, providing assistance with parts of the report, or bringing it to a unified format required at your school. Whether you need a biology, chemistry, or physics lab report, we are convinced we have the right tools to help you reach your academic goals:
Top-notch content. Each writer at our company is highly qualified to work with lab reports on every subject imaginable. We proofread every written assignment and run the content through advanced plagiarism software to maintain a 100% originality of the text.
Stress-free service. At every stage of working with us, from placing the order to tracking the progress of your order to receiving the finished paper, you will be surprised by how easy and convenient everything is.
Flexible pricing. Besides maintaining generally affordable prices, we regularly hold various promotions and discounts both for existing and new customers. Plus, you can take advantage of free revisions and other freebies we regularly offer.
24/7 customer support. Whenever you have questions about our services, want to find out how your order is progressing, or want to reach out to the writer working on your order with additional instructions, our helpful and friendly customer service staff will happily assist you.
5homework - Affordable and Trustworthy Lab Report Services
As former students ourselves, we understand how difficult it can be to manage all the various assignments at once. That is why we are always here to help you with lab reports for any subject or complexity levels - simply reach out to us and let us know what you need!